Gondola Cable Car in Gulmarg
Gulmarg is known for its beautiful mountains, snow-covered slopes, and pristine natural beauty. Among the many attractions in Gulmarg, one of the most popular is the gondola cable car ride. The gondola is a cable car that takes visitors to the top of the mountain, where they can enjoy panoramic views of the surrounding area.
The gondola cale car in Gulmarg is considered to be one of the most beautiful in the world. It is the second-highest cable car in the world, with a height of 13,780 feet above sea level. The ride is divided into two phases, with the first phase taking visitors to the Kongdoori Station at a height of 8,530 feet. The second phase takes visitors to the Apharwat Peak at a height of 13,780 feet.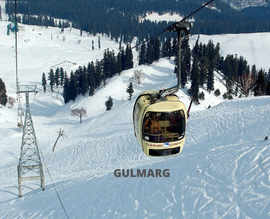 The gondola ride is a thrilling experience, with the cable car gliding over the mountains and forests, offering breathtaking views of the snow-capped peaks and the lush green valleys below. The ride is also an excellent way to experience the beauty of Gulmarg's natural landscape. Visitors can see the entire town and the surrounding mountains from the top, giving them a sense of the sheer scale of the area.
The gondola ride is open throughout the year, but it is especially popular during the winter months, when the town is covered in snow. Visitors can enjoy skiing, snowboarding, and other winter sports at the top of the mountain, and the views of the snow-covered landscape are truly spectacular.
One of the best things about the gondola ride is that it is suitable for visitors of all ages. The cable car is equipped with comfortable seats and large windows that provide a clear view of the surroundings. Visitors can also hire a guide to explain the different sights and provide information about the history and culture of the region.
In conclusion, the gondola ride in Gulmarg is a must-see attraction for anyone visiting the town. It offers a unique and thrilling way to experience the natural beauty of the region, and the views from the top are simply breathtaking. Whether you are visiting in the winter or the summer, a ride on the gondola is an unforgettable experience that should not be missed.