ashmir: A Paradise on Earth – Exploring Nature's Magnificence
Nestled in the northernmost part of India, the enchanting region of Kashmir has long been hailed as "Paradise on Earth." This breathtaking destination is renowned for its picturesque landscapes, serene lakes, lush valleys, and snow-capped mountains. The tour category "Kashmir" beckons adventurers, nature enthusiasts, and those seeking tranquility to embark on a journey through this mesmerizing region.
Natural Beauty Beyond Compare:
Kashmir's unparalleled natural beauty captivates the heart and soul of every traveler fortunate enough to visit. From the iconic Dal Lake, where vibrant houseboats gently glide on mirrored waters, to the sprawling meadows of Pahalgam and Gulmarg, every corner of Kashmir is a masterpiece crafted by nature. The panoramic vistas of the Himalayas and the surrounding hills, cloaked in varying shades of green during summer and draped in pristine white during winter, create a visual symphony that lingers in memory.
Dal Lake and Houseboats:
One of the most iconic features of Kashmir is Dal Lake, often referred to as the "Jewel in the Crown of Kashmir." Visitors have the unique opportunity to stay on intricately designed houseboats that float on the serene waters of the lake. These houseboats offer a glimpse into the rich cultural heritage of the region and provide a tranquil escape from the hustle and bustle of daily life.
Gulmarg: The Meadow of Flowers:
Gulmarg, meaning "Meadow of Flowers," is a paradise for nature enthusiasts and adventure seekers alike. During the summer months, the meadows are adorned with a riot of colorful blooms, creating a stunning tapestry against the backdrop of the mighty Himalayas. In winter, Gulmarg transforms into a winter wonderland, attracting skiers and snowboarders to its powdery slopes.
Pahalgam: A Hiker's Delight:
Pahalgam, another jewel of Kashmir, is a paradise for trekkers and hikers. The region boasts an abundance of trekking trails that lead to alpine lakes, glacial valleys, and breathtaking vistas. Lidder River, which meanders through Pahalgam, offers opportunities for white-water rafting, adding an adrenaline-pumping dimension to the natural beauty.
Cultural Richness and Warm Hospitality:
Kashmir's culture is a vibrant blend of various influences, including Persian, Indian, and Central Asian. The warm hospitality of the local people adds an extra layer of charm to the travel experience. Visitors have the chance to savor traditional Kashmiri cuisine, known for its rich flavors and aromatic spices, while also experiencing the region's handicrafts, including intricately designed carpets, shawls, and papier-mâché items.
Challenges and Considerations:
While Kashmir's natural beauty and cultural richness are undeniable, it's important to acknowledge that the region has faced its share of challenges, including political tensions and security concerns. Travelers are advised to stay informed about the current situation and follow any travel advisories in place.
0 days
Kashmir 5 Nights 6 Days (Family tour)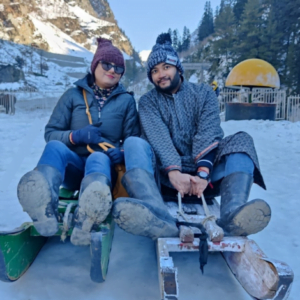 0 days
Embark on a romantic journey of a lifetime with our exquisite Kashmir Honeymoon ...